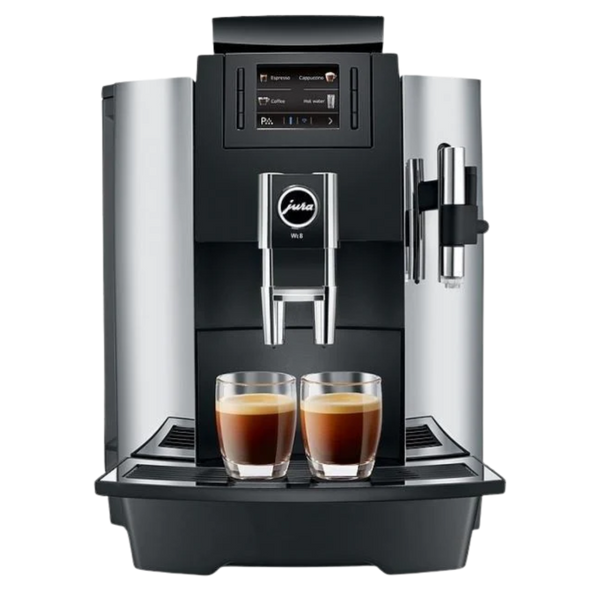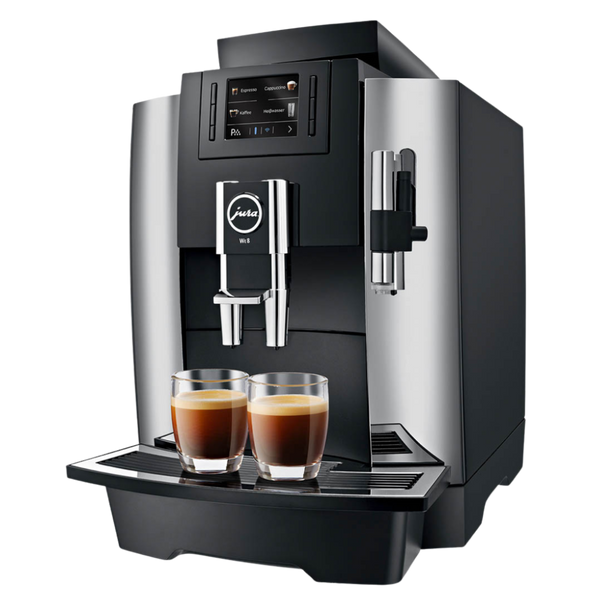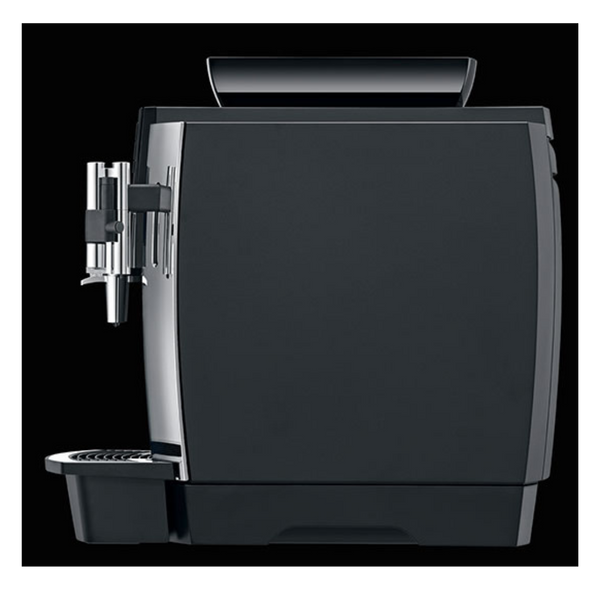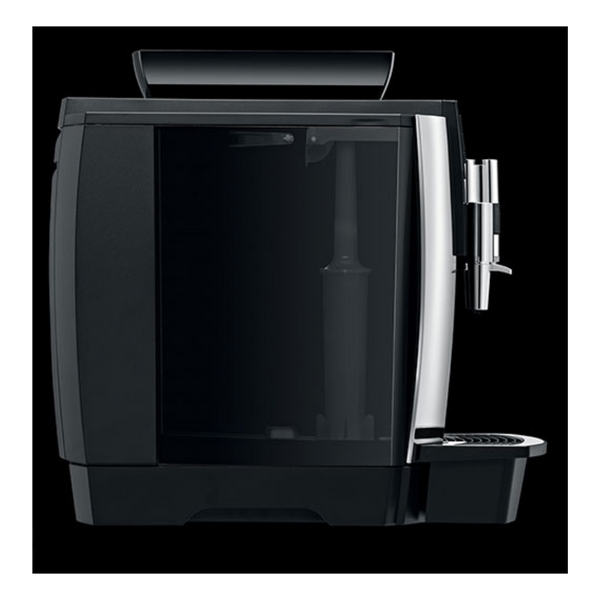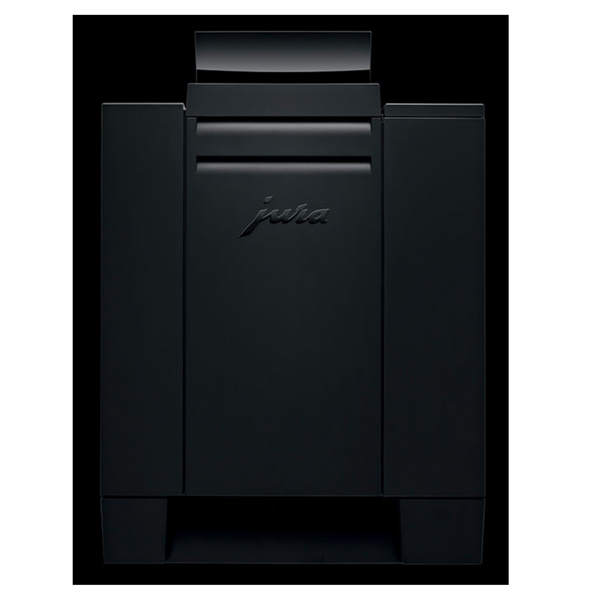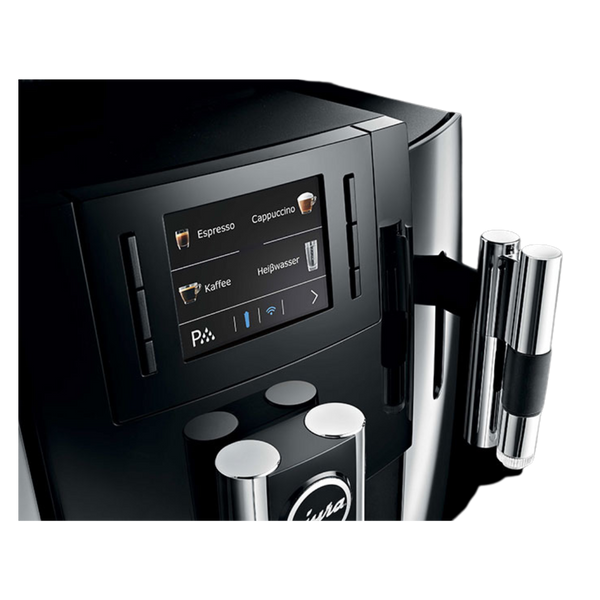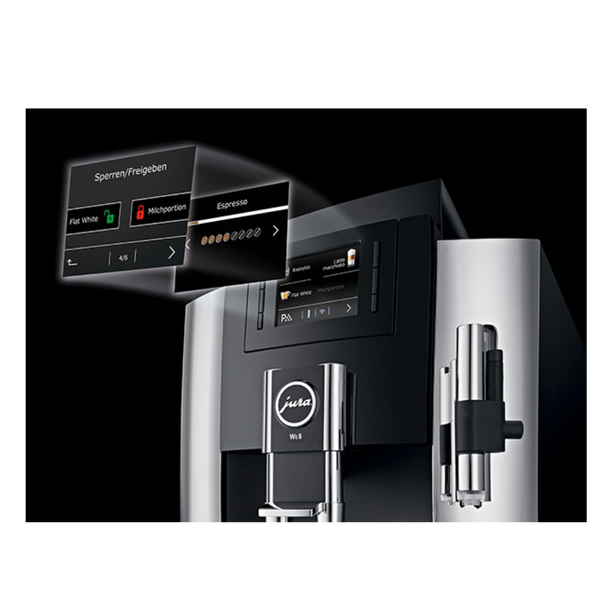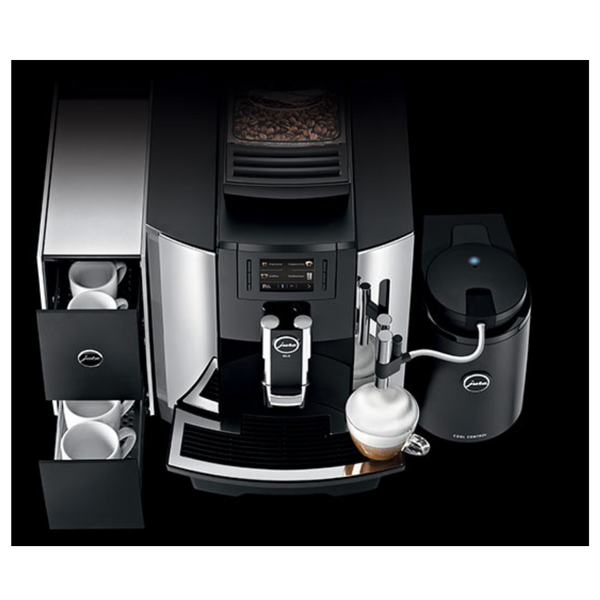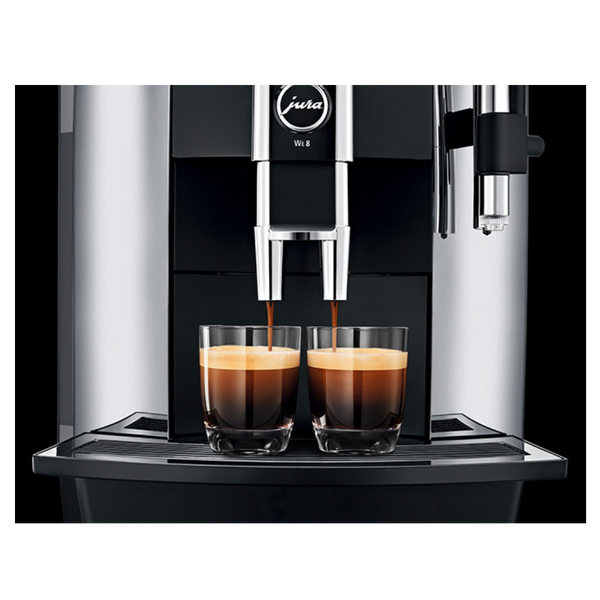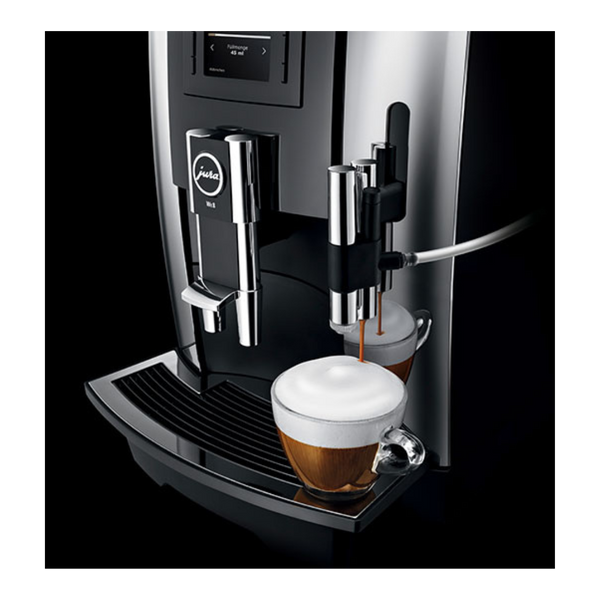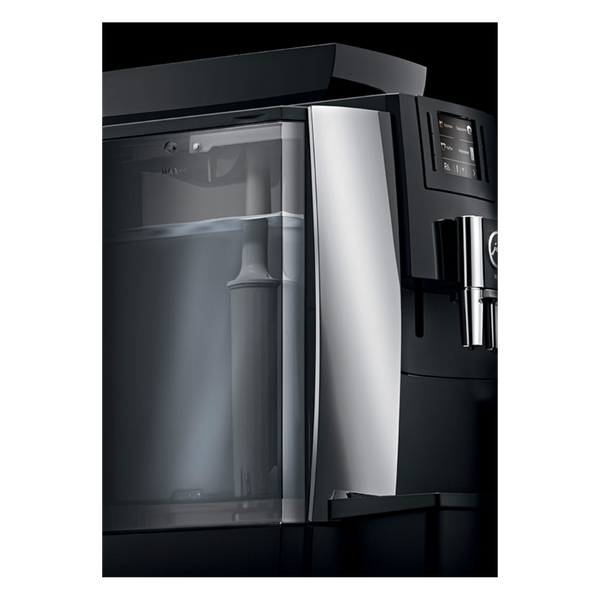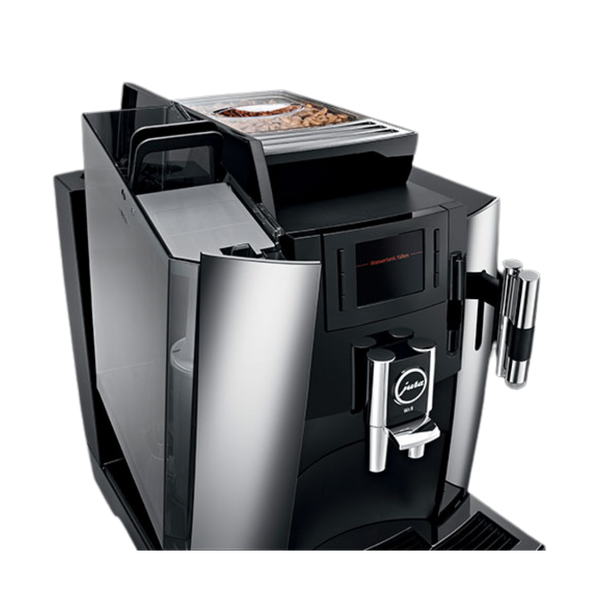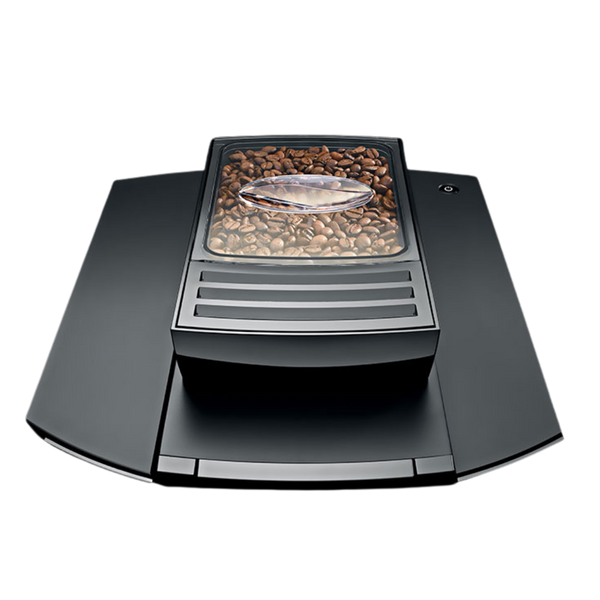 Jura WE8 
For lovers of specialty coffee
Wherever customers, staff and visitors can enjoy superlative coffee, the atmosphere is relaxed, communicative and productive. Anyone who appreciates the finer things in life, a wide choice of speciality coffees and aesthetics will love the WE8.
A water tank with a 3 l holding capacity, a bean container for 500 g of coffee beans and a coffee grounds container with a capacity of 25 portions make the elegant professional coffee machine the ideal solution for locations where around 30 speciality coffees are consumed per day.
Innovative technologies revolutionize the enjoyment of coffee. The One-Touch function creates trend specialties like latte macchiato, flat white or cappuccino very simply at the touch of a button. Buttons on the front of the machine and a modern TFT display make operation incredibly simple even for inexperienced users.
State-of-the-art technologies for perfect enjoyment
The WE8 offers 12 different specialties. JURA has perfected the complete brewing process for short specialty coffees, allowing the WE line to make them to professional barista standard every time. The six-level Aroma G3 grinder ensures that the coffee is optimally ground. It always grinds the beans fresh, quickly yet gently to preserve the aroma. The Pulse Extraction Process (P.E.P.®) developed by JURA optimizes the extraction time. To make a ristretto or espresso, it forces the hot water through the ground coffee at short intervals. The One-Touch function on the WE8 allows you to make trend specialties finished with milk and milk foam at the touch of a button, without having to move the cup.
TÜV-certified hygiene guarantee
Cleanliness and hygiene are essential in the workplace, so integrated rinsing and cleaning programs combined with specially developed cleaning products for JURA coffee machines ensure perfect hygiene at the touch of a button. The milk system is also cleaned quickly and easily at the touch of a button. This complete hygiene system, which is certified by TÜV Rheinland, makes the WE line an excellent choice for premises which operate an HACCP* concept.
* Hazard Analysis and Critical Control Points
As individual as your requirements
Because requirements vary from one situation to another, the WE8 comes with many options for programming and customization. The amount of ground coffee and water can be adapted to suit personal preferences and the cups and glasses used. It is also possible to give preference to certain specialty coffees by disabling others. Various modes are available on request that only allow presetting's and cup volumes to be changed after entering a certain key combination.
SUPPORT CLIPS:
JURA standards
| | |
| --- | --- |
| Pulse Extraction Process (P.E.P.®) The optimum extraction time guarantees the perfect espresso of outstanding barista quality | ✓ |
| Variable brewing chamber (For individual coffee strength and preparation of two cups in just one brewing operation) | 5 - 16 g |
| Grinder | Aroma G3 grinder |
| Thermoblock heating system (For short heating-up times and water that is freshly heated every time) | 1 |
| Powder chute for ground coffee | ✓ |
Specialties
Products

Ristretto




2 x Ristretto




Espresso




2 x Espresso




Coffee




2 x Coffee




Cappuccino




Latte macchiato




Flat white




Portion of milk




Hot water




Ground coffee

Hot water function
3 levels
1 latte macchiato
1 min. 26 sec.
1 cappuccino
56 sec.
2 coffee
1 min.
2 espresso
45 sec.
2 ristretto
30 sec.
Hot water (200 ml / 7 oz.)
45 sec.


Operating and Programming Standards
Compatible with J.O.E
✓
Display (For self-explanatory, intuitive operation
TFT color display

Programmable and individually adjustable amount of water (To suit the size of your cup)

✓
Programmable and individually adjustable coffee strength (Levels) - Enjoy the perfect coffee to suit your personal taste
8
Programmable brewing temperature (Levels) - Can be adjusted to suit your personal preference
2
Programmable temperature of hot water (Levels) - 

Can be adjusted to suit your personal preference

3

Resettable day counter
✓
Shows the number of preparations for each individual product (For a precise overview of the preparations)
✓


Areas of use and recommended maximum daily output
Recommended maximum daily output
30
Areas of use
Own usage
Service provider
Reseller
In figures
| | |
| --- | --- |
| Height-adjustable coffee spout (Adjustable to suit your cups) | 65 - 111 mm |
| Height-adjustable cappuccino spout (Adjustable to suit your cups) | 107 - 153 mm |
| Height-adjustable hot water spout (Adjustable to suit your cups) | 107 - 153 mm |
| Water tank capacity | 3 L |
| Coffee grounds container (servings) | 25 |
| Cable length | 1.1 m |
| Voltage / Power | 110 V ~ |
| Current | 10 amp |
| Stand-by power | 0 Watt |
| Weight | 10 kg / 22 lbs |
| Dimensions (L x W x H) | 44.4 x 41.9 x 29.5 cm |
| | 18 x 17 x 12 in |
| Article Number | 15145 |


Downloads
Jura WE8 Professional Instructions for Use
Jura WE8 Professional Technical Documentation
Jura WE8 Professional Product Information Sheet
***PLEASE NOTE LEAD TIMES ARE UP TO 4-6 WEEKS***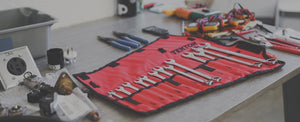 We Service What We Sell
National Cappuccino is an authorized Canadian distributor and service center.