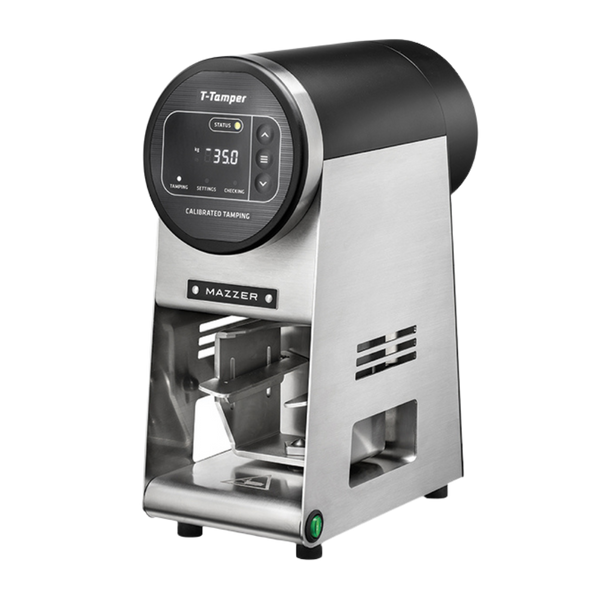 Mazzer T-Tamper
DISTRIBUTES | LEVELS | TAMPS
T-Tamper was created to obtain constant extractions, improve coffee quality in the cup and protect barista well-being. The machine automatically distributes, levels and tamps the ground coffee, thereby optimizing both workflow and results.
CONTROLLED FORCE

T-Tamper has been designed to guarantee the utmost precision as far as calibrating the weight distributed on the coffee puck by the rotating tamper. Both the machine's extremely solid structure and high-quality materials prevent it from deforming during the work cycle; in this way, the ground coffee is pressed evenly and parallel to the surface, in order to obtain optimum extractions.
COMPACT AND ELEGANT
The compact design that extends upwards rather than outwards – just 14 cm wide – makes this a modular element for which a space can easily be found on the workbench. The T-Tamper is easy to clean and will keep all the coffee into the portafilter even when handling large doses.
Accurate tamping pressure (±0.5 kg, ±1.1 lbs) by means of a load cell with feedback control
Automatic rotating system that distributes and levels the ground coffee in the cup whilst it is being tamped. The rotation keeps the tamper clean from coffee.
Adjustable portafilter holder to guarantee optimum parallelism between the ground coffee and the tamping surface.
EXCELLENT REPEATABILITY OF THE END CUP RESULT
The automated coffee distribution and tamping process achieves excellent results without barista intervention, thus helping prevent occupational-related diseases concerning the repetitive use of wrists, hands and elbows.
The machine has been designed with inductive cup-detecting sensors and mechanical locking systems to fully protect baristas' hands during the work cycle.
A solid and sturdy stainless steel structure (weight: 12.5 kg – 27.6 lbs) prevents portafilter holder and tamping head to flex under stress to guarantee maximum parallelism
Multi-adjustable cup holder to fit any type of filter holder, included naked
Ergonomic design with an optimum viewing angle of the electronic control system
Over 1.2 million cycles tested
Wide tamping pressure adjustment range (10-35 kg)

The option to pre-set two quick-change tamping pressures

Two working modes to choose between: fast (single tamp) or accurate (double tamp)

Option to select the height from which to start the tamper, in order to optimize work times

Diagnostics (stroke counter, defects, error codes)

Removable cup holder to facilitate cleaning
HOW TO VIDEOS:
TECHNICAL SPECS:
Power: 100 watt

Version: Electronic

Weight: 12,5 kg (27.6 lbs)

Compatibility: with all cups, including naked

2 tamping pressure profiles: fast and precise

Force adjustment: from 10kg to 35kg with step of 1kg in fast mode and 0.5kg in precise mode

Safety systems: inductive, mechanical, magnetic




 
| | mm | inches |
| --- | --- | --- |
| A | 140 | 5.5 |
| C | 275 | 10.8 |
| H | 360 | 14.17 |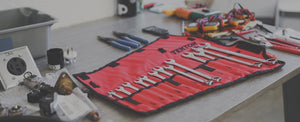 We Service What We Sell
National Cappuccino is an authorized Canadian distributor and service center.