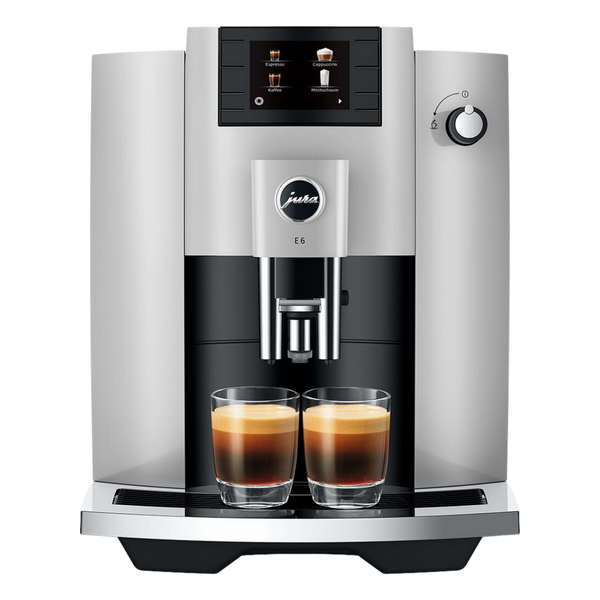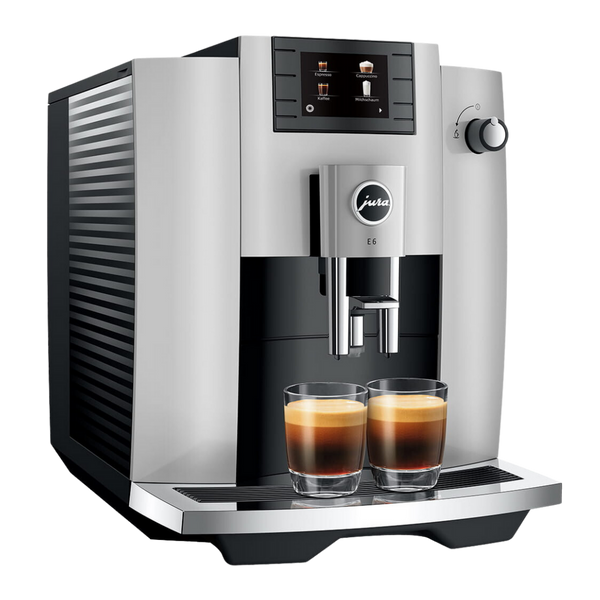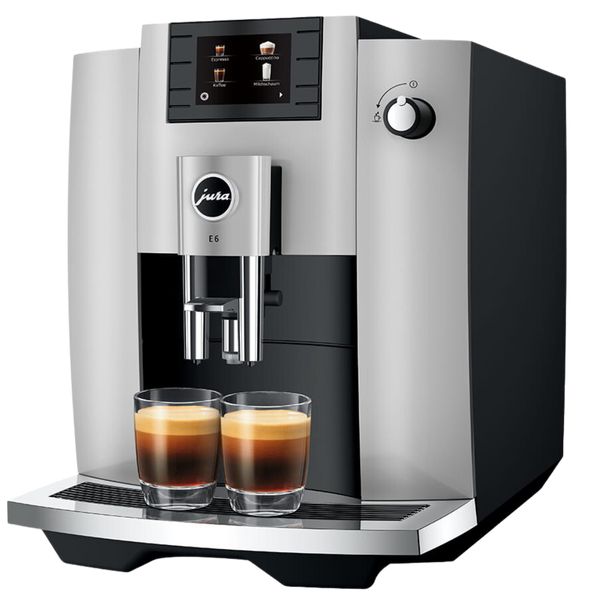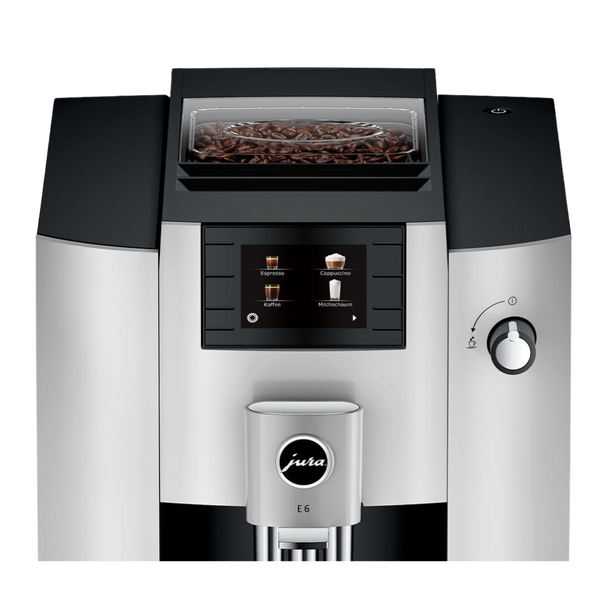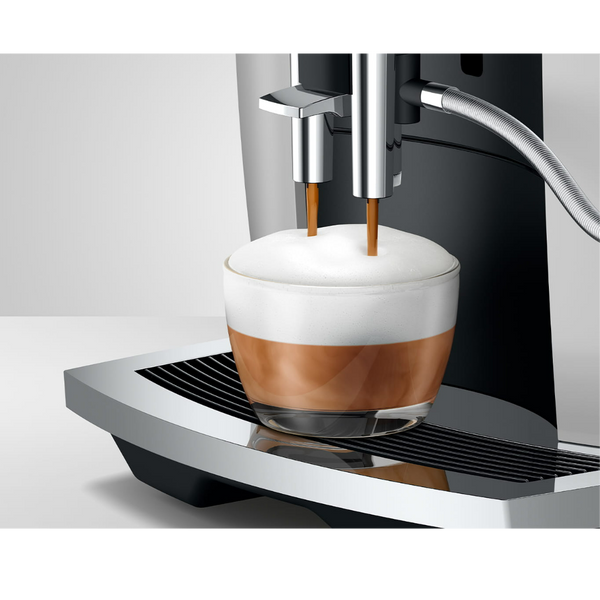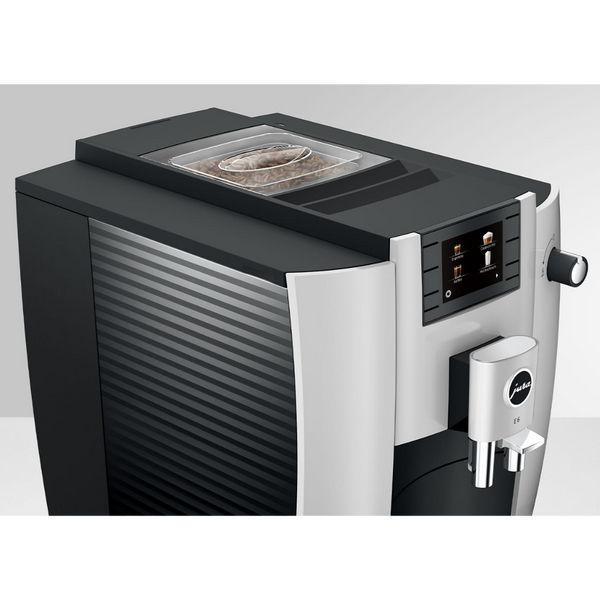 JURA E6
The new E6 - Best-loved specialty coffees at the touch of a button
Cappuccino with a master touch: Treat yourself to perfect coffee every day with the E6. In addition to classic black coffee specialties, it makes the crowd favorite, the cappuccino, to perfection thanks to the Easy Cappuccino function.
The Professional Aroma Grinder, by virtue of its more consistent grinding result, ensures that you get more aromatic coffee, while the sophisticated operating concept with color display and buttons means coffee preparation is boiled down to the basics at the touch of a button thanks to simple, straightforward user guidance. Its timeless, elegant design makes the E6 an eye-catching feature in every kitchen.
Even more aroma for even more enjoyment
The Professional Aroma Grinder helps to create the perfect coffee that is second to none. Thanks to perfected grinder geometry, the quality of the grind is more consistent, and this performance is maintained over its entire service life. This optimizes aroma extraction and achieves an aroma increase of 12.2% compared to conventional grinders. Discover completely new sides to your favorite coffee specialty.
Cappuccino made to perfection
With the proven Easy Cappuccino function, you can enjoy superb cappuccino at the touch of a button. The milk nozzle, which was specially developed for cappuccino, ensures uniquely soft, fine milk foam that perfectly complements the coffee and promises true perfection. The ultimate solution for cappuccino lovers.
Perfection made easy
The clearly presented 2.8" color display, six ideally placed buttons and an intuitive operating concept enable convenient operation of the E6, whether you want simple coffee preparation, to set individual preferences or use the self-explanatory cleaning functions. The E6 is also compatible with J.O.E.®, which allows you to prepare specialty coffees, set and store personal preferences and easily send your guests' coffee orders directly to the coffee machine from your smartphone.
Sustainable design
With its quiet elegance, the design of the E6 reflects the unique technology hidden behind its timeless exterior. The linear geometry with sophisticated chrome accents ensures a distinct visual that focuses uncompromisingly on first-class coffee and blends harmoniously into any décor. Both in terms of the selection of specialties and its design, the E6 purposely avoids any excess that could distract from its true essence: The perfect cup of coffee.
SUPPORT CLIPS
 CHANGING THE FILTER
Thanks to the integrated RFID (Radio-Frequency-Identification) chip, the CLARIS Smart continuously records information about filter use and alerts the user when the filter capacity has been used up. CLARIS Smart is automatically detected by the coffee machine and water is automatically routed through it.
CLEANING THE MILK SYSTEM
 It's easy to keep the milk system in the dual spout hygienic and working perfectly. Just remember to clean the milk system every day if you have been preparing milk. This only takes about two minutes. Only use JURA milk system cleaner, which is specially formulated to clean the milk system.
CLEANING THE MACHINE
 Cleaning extends the life of your coffee machine and keeps the coffee quality at the highest level. Only use JURA cleaning tablets, which are specially designed to work with the cleaning program.
DESCALING THE MACHINE
Scale is the biggest enemy of any appliance that uses water. Only use JURA descaling tablets, which remove scale gently to extend the life of your coffee machine.
Specifications
Specialties
| | |
| --- | --- |
| Number of specialties |  11 |
| Espresso | ✓ |
| 2 x Espresso | ✓ |
| Coffee | ✓ |
| 2 × Coffee | ✓ |
| Caffè Barista | ✓ |
| Lungo Barista | ✓ |
| Espresso Macchiato | ✓ |
| Cappuccino | ✓ |
| Cappuccino Extra Shot | ✓ |
| Portion of milk foam | ✓ |
| Hot water | ✓ |
Specific benefits
Intelligent preheating (For hot coffee from the first cup.)
 11
3D brewing technology (The water flows evenly through the ground coffee at multiple levels in order to extract the maximum aroma.)
✓
JURA Cockpit with maintenance status display (Shows the cleaning, descaling and filter status and the number of products dispensed.)
✓

Wi-Fi connection to home network

(The appropriate transmitter must either be supplied as standard or ordered separately.)
✓
Jura coffee machine standards
Pulse Extraction Process (P.E.P.®) -

 The optimum extraction time guarantees the perfect espresso of outstanding barista quality.
✓

Variable brewing unit

(Ideal brewing conditions and the prefect pressure, no matter what amount of ground coffee is used.)

5 – 16 g

Grinder
Professional Aroma Grinder

High-performance pump, 15 bar

1

Thermoblock heating system

(For short heating-up times and water that is freshly heated every time.)
1

Fluid systems

1

Milk system / interchangeable milk spout

HP1 / CX3

Powder chute for ground coffee

✓

Aroma preservation cover

✓
Operating and programming standards
Compatible with J.O.E.® -

 The JURA Operating Experience (

J.O.E.®), your JURA app, brings all the functions of the automatic machines to your smartphone.

✓

Display

2.8" colour display

Programmable and individually adjustable amount of water
✓
Programmable and individually adjustable coffee strength
10 levels
Programmable amount of milk / milk foam
✓
Programmable brewing temperature
3 levels

Programmable temperature of hot water - Perfect for the tea of your choice.

3 levels
Energy standards
| | |
| --- | --- |
| Energy Save Mode (E.S.M.©) | ✓ |
| Zero-Energy Switch or power switch - Disconnects the machine from the power supply and avoids using energy on standby. | ✓ |
| Programmable switch-off time | ✓ |
In figures
Height-adjustable/width-adjustable coffee spout

2.6 – 4.4 in / –

 
Height-adjustable cappuccino spout

2.6 – 4.4 in / 65 – 111 mm

Height-adjustable hot-water spout

2.6 – 4.4 in / 65 – 111 mm

Water tank capacity

64 oz / 1.9 l

Coffee grounds container (approx. servings)

16

Bean container holding capacity

9.9 oz. / 280 g

Cable length

43 in / 1.1 m

Voltage / power

120 V ~ / 1450 W

Current
10 A
Stand-by power
0 W
Weight

20 lbs / 9.1 kg

Dimensions (W × H × D)

11 in × 13.8 in × 17.6 in

28 cm × 35.1 cm × 44.6 cm

Article number, product code

15465, Platinum (NAC)

EAN code

7610917154654

Country of production
Portugal
Model year
2022
DOWNLOADS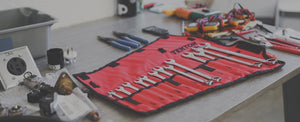 We Service What We Sell
National Cappuccino is an authorized Canadian distributor and service center.