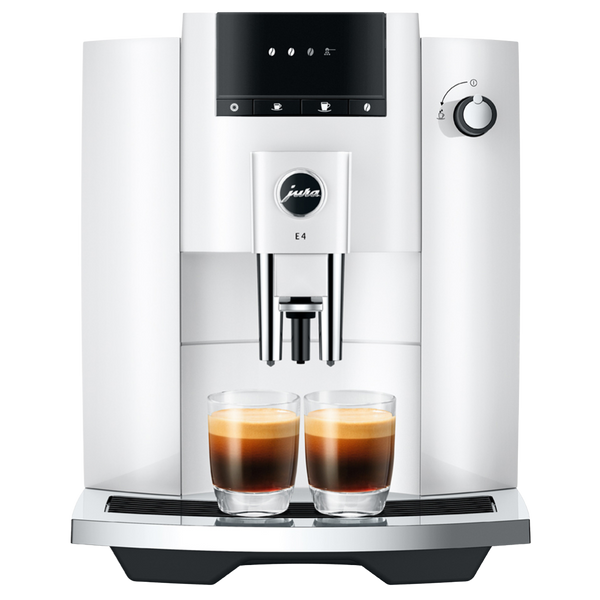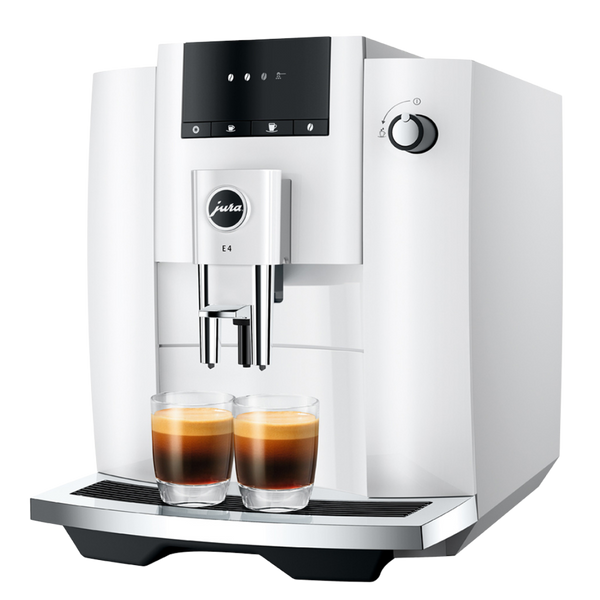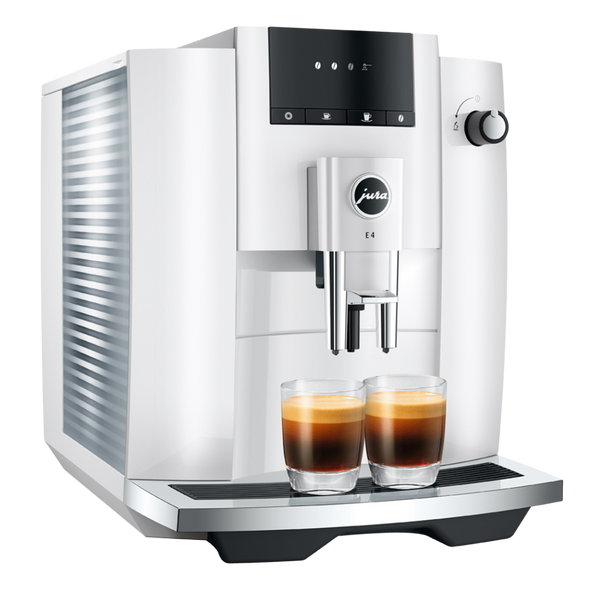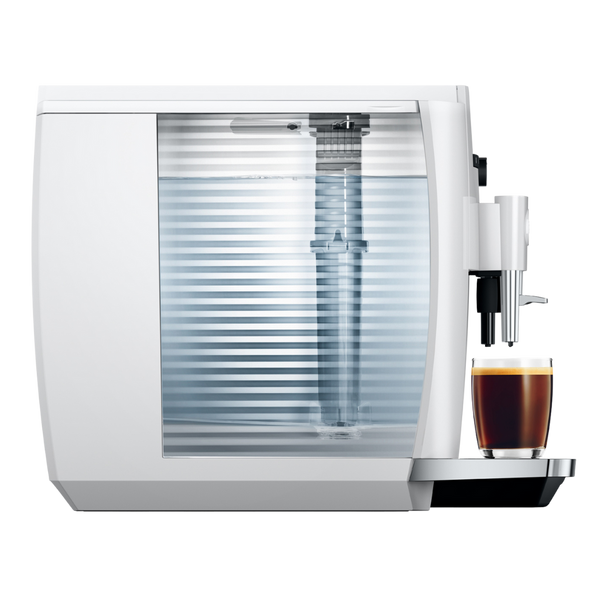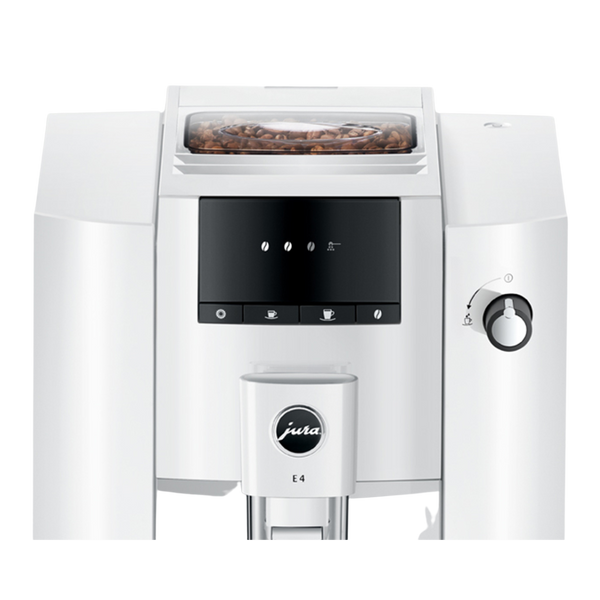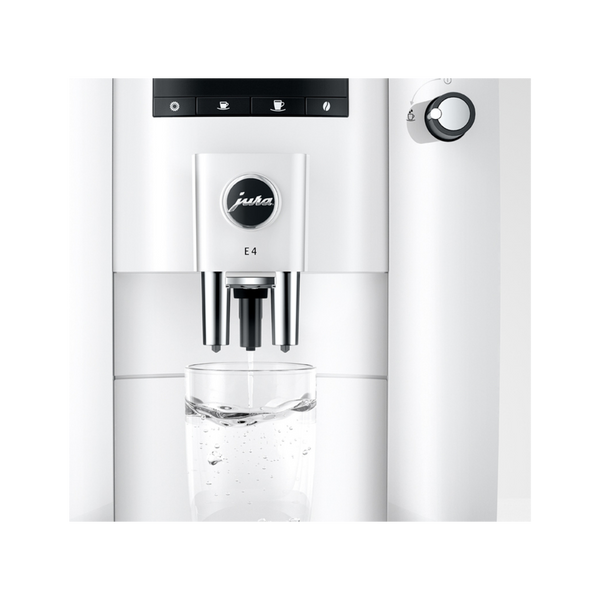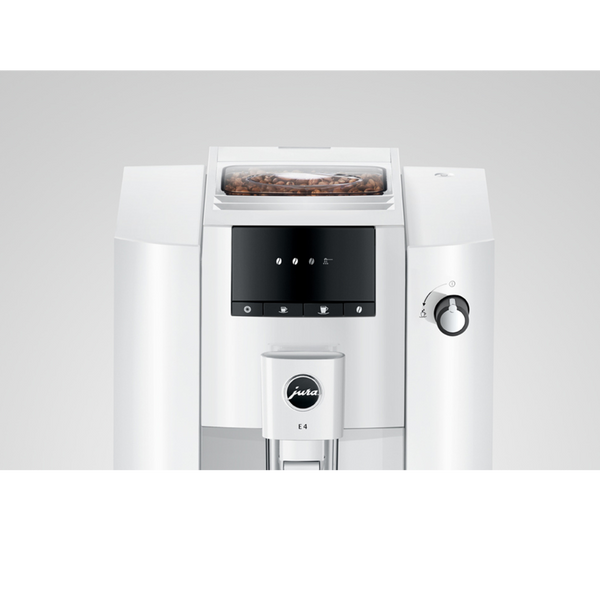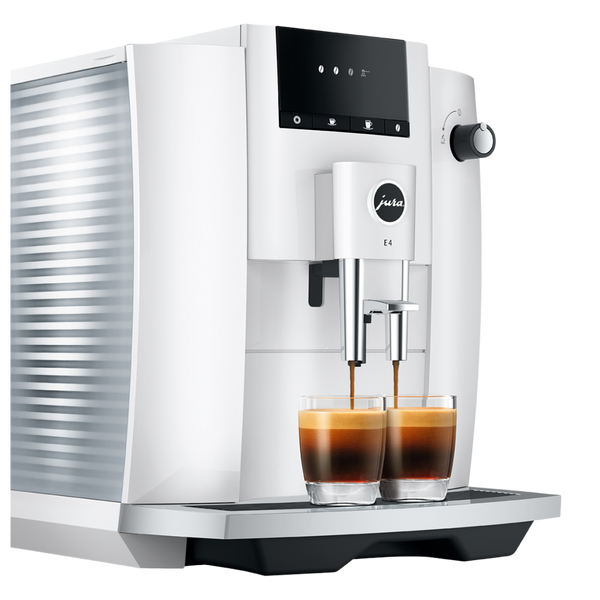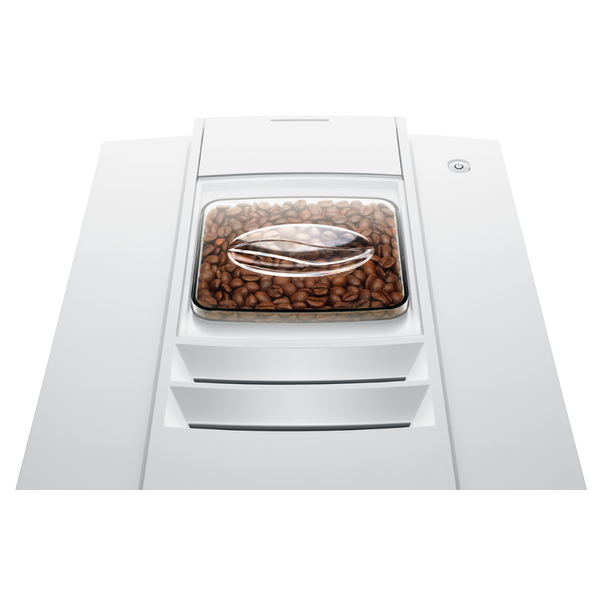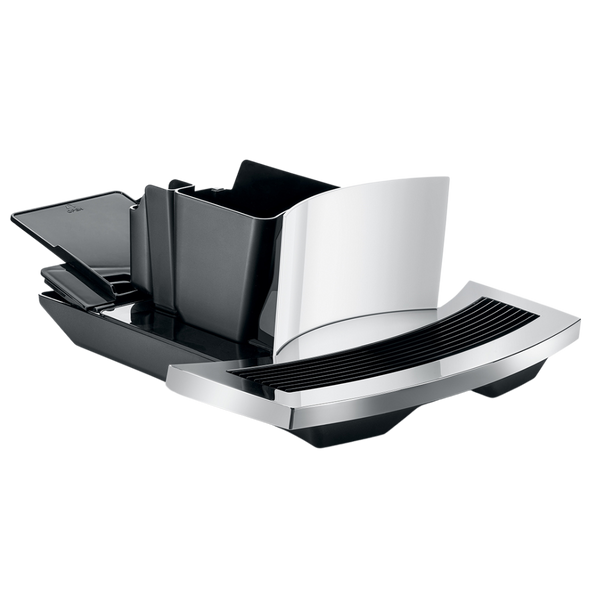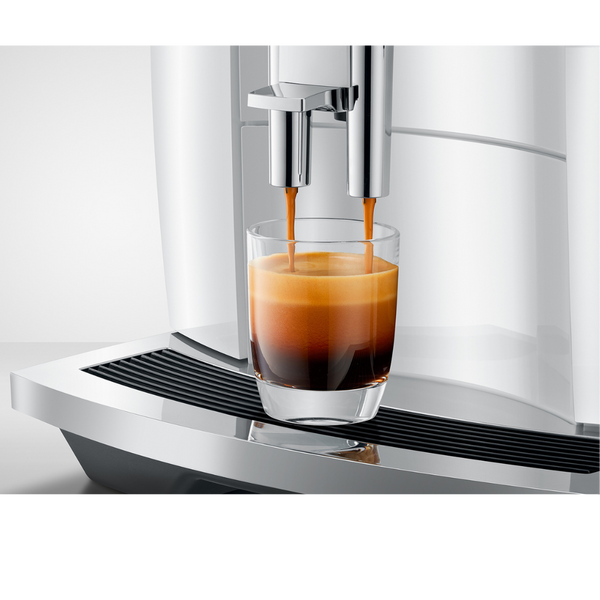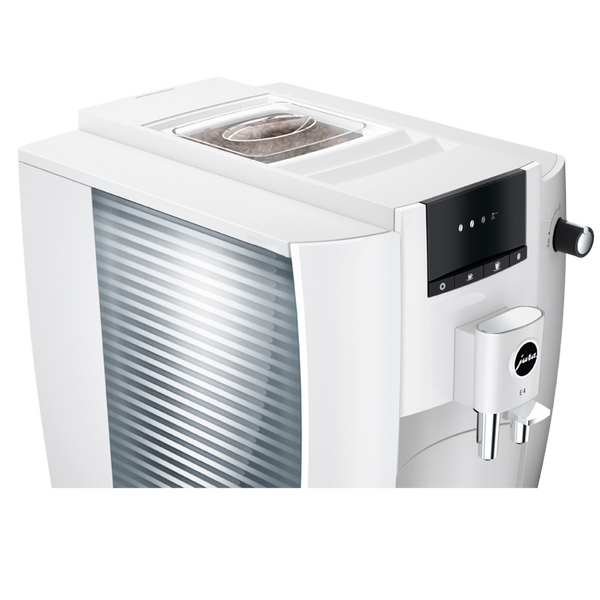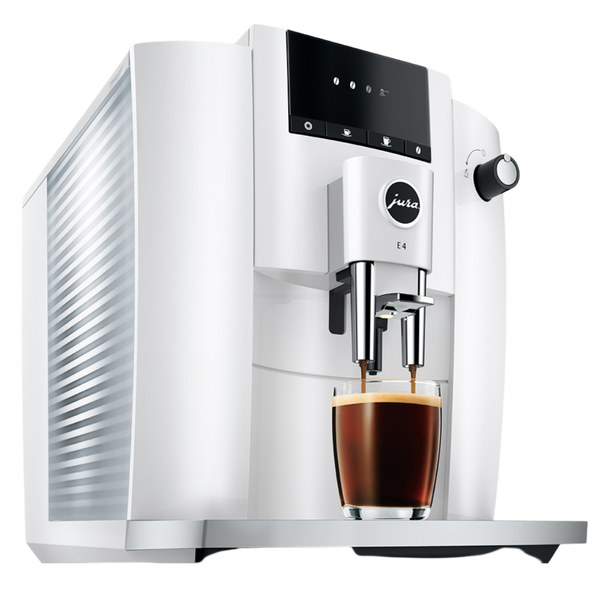 Jura E4
Truly sublime coffee
It's here – the ideal full-size coffee machine for those who want to focus on the essentials: coffee made to perfection.
The E4 is especially suitable for making black coffee specialties. The Professional Aroma Grinder, the eighth-generation brewing unit, and the 3D brewing process all help to create a full-bodied aroma. Always freshly ground, not capsuled. There are three intensity levels to choose from. The intuitive symbol display allows the user to select the required option with just one touch.
The functions also include hot water preparation. As with its features, the E4 is also pared back to the essentials when it comes to design. Crafted with maximum precision, the minimalist lines emphasize its premium quality.
Very easy to use
Maximum flavor, minimum complexity. Preselection functions allow the user to define their own personal aroma preferences, so one touch of a button is all it takes to prepare the perfect cup of coffee. It couldn't be easier.
Freshly ground, not capsuled
The defining features of the Professional Aroma Grinder include 12.2%* more aroma and consistently high grind quality over its entire service life. Combined with the eighth-generation brewing unit and the 3D brewing process, the result in the cup is truly sublime coffee. The E4 prepares double products in two cycles. This results in maximum aroma, because the user can take advantage of the variable brewing unit's full range of 5 to 16 grams of ground coffee for both cups. 
Hot water in no time
If you'd like a cup of tea for a change, no problem. Simply turn the switch to start hot water preparation and up to 10 oz of hot water will flow into the cup in no time at all.
Harmonious design
The E4 reflects the characteristic design of JURA coffee machines, with clean lines and surfaces. Crafted with maximum precision, the minimalist lines emphasize the premium quality of the machine. The use of colors follows the same minimalist approach. While the complete body of the machine is in understated Piano Black, chrome-plated details add accents and set off the finished coffee to perfection.
SUPPORT CLIPS
Optimal usage of your E4
Discover how best to use and care for your E4. By following these tips, you can keep your coffee machine hygienic and always enjoy the perfect cup of coffee.
Changing the filter
Thanks to the integrated RFID (Radio-Frequency-Identification) chip, the CLARIS Smart continuously records information about filter use and alerts the user when the filter capacity has been used up. CLARIS Smart is automatically detected by the coffee machine and water is automatically routed through it.


Descaling the machine
Scale is the biggest enemy of any appliance that uses water. Only use JURA descaling tablets, which remove scale gently to extend the life of your coffee machine.
Cleaning the machine
Cleaning extends the life of your coffee machine and keeps the coffee quality at the highest level. Only use JURA cleaning tablets, which are specially designed to work with the cleaning program.
Specialties

Number of specialty coffees

 
5

Espresso

✔
2 x 

Espresso

✔

Coffee

✔
2 x Coffee
✔
Hot Water
✔
JURA coffee machine standards
 

Pulse Extraction Process (P.E.P.®)

✔

Variable brewing unit

5 – 16 g

Grinder

Professional Aroma Grinder

High-performance pump, 15 bar

1
Thermoblock heating system
1
Fluid systems
1
Powder chute for ground coffee
✔
Aroma preservation cover
✔
Hygiene standards
 

Intelligent Water System (I.W.S.)

✔

Filter cartridge

CLARIS Smart

Integrated rinsing, cleaning and descaling programmed

✔

Monitored drip tray

✔

JURA hygiene: TÜV-certified

✔
In figures
Height-adjustable/width-adjustable coffee spout

2.6 – 4.4 in / –




65 – 111 mm / –

Height-adjustable hot-water spout

2.6 – 4.4 in

Water tank capacity

1.9 L
 

Bean container holding capacity

280 g

Coffee grounds container (approx. servings)

16

Cable length

47 in

Voltage 

110-120 V

Current

10 A

Stand-by power

0 W

Weight

9.8 kg/ 21.61 lbs

Dimensions (W × H × D)

27.94 × 35.052 × 44.704 cm

11 x 13.8 x 17.6 in

Article number / product code

15560,  Piano White NAA

EAN code

7610917155606

Country of production

Made in Portugal

Model year

2022
Specific benefits
 

Intelligent preheating

✔

3D brewing technology

✔

WiFi connection to home network

✔

Transmitter supplied as standard

-
Operating and programming standards
 

Compatible with J.O.E.®

✔

Display

Symbol display

Programmable and individually adjustable amount of water

✔

Programmable and individually adjustable coffee strength

3 levels
Energy standards
 

Energy Save Mode (E.S.M.©)

✔

Zero-Energy Switch or power switch

✔

Programmable switch-off time

✔
DOWNLOADS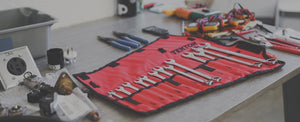 We Service What We Sell
National Cappuccino is an authorized Canadian distributor and service center.