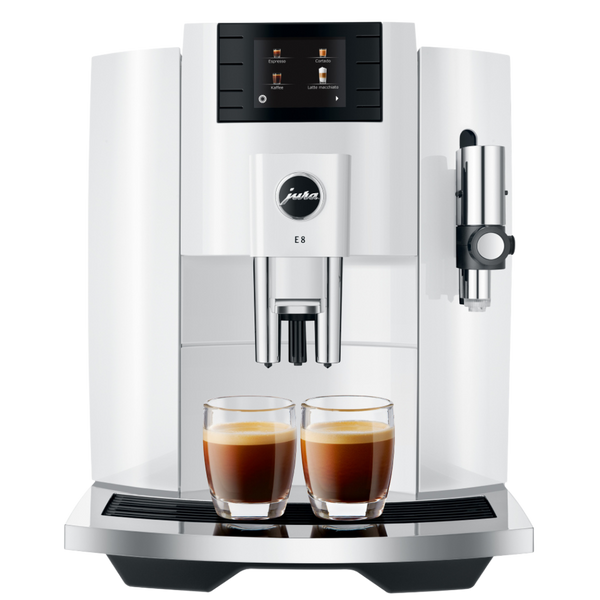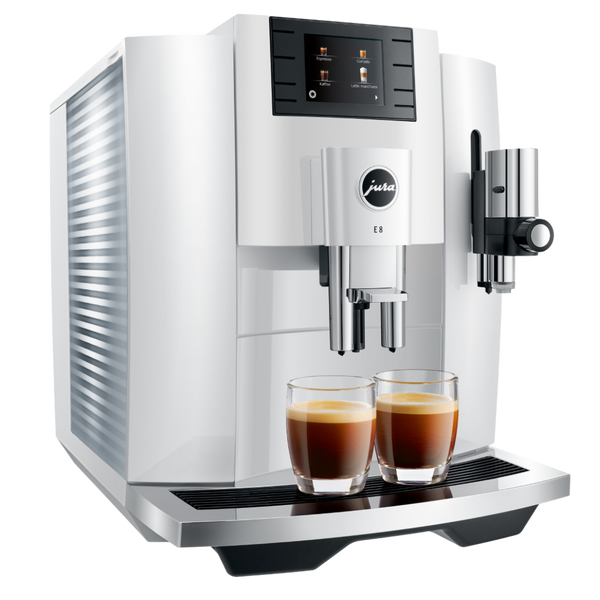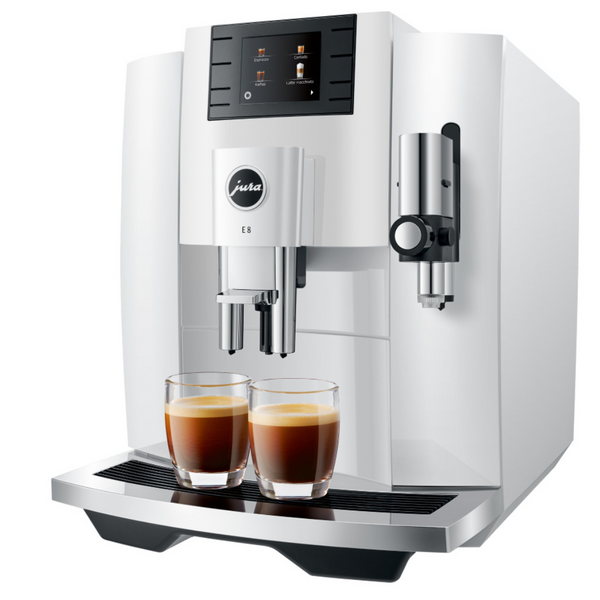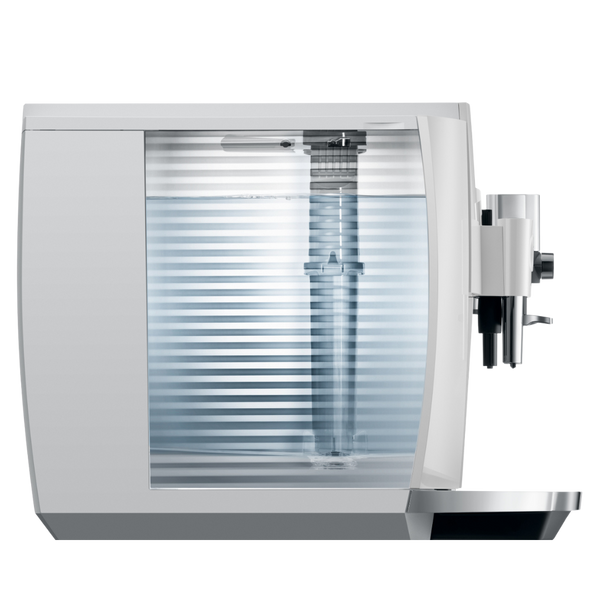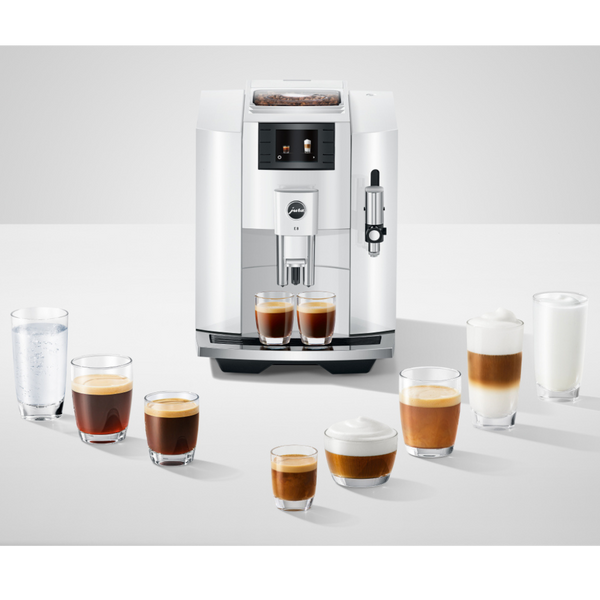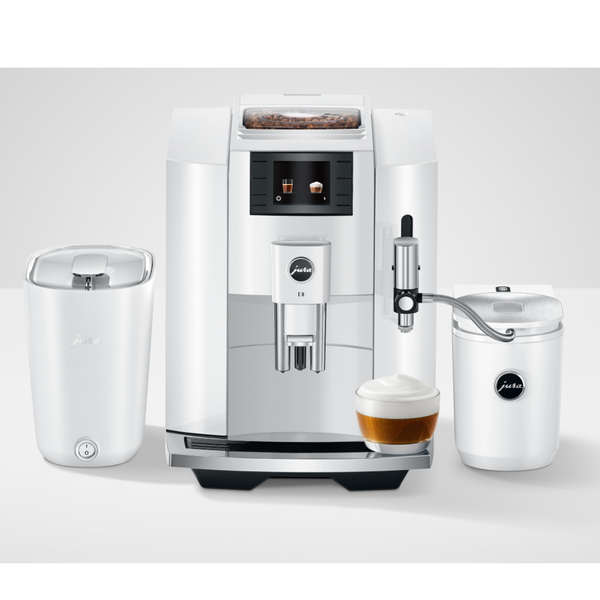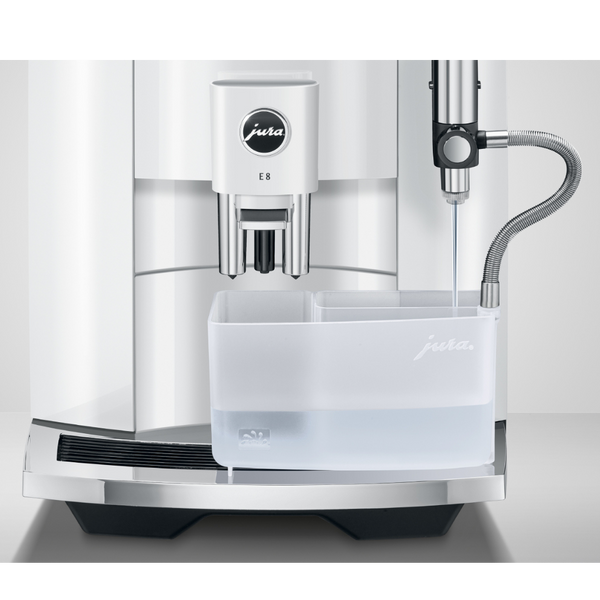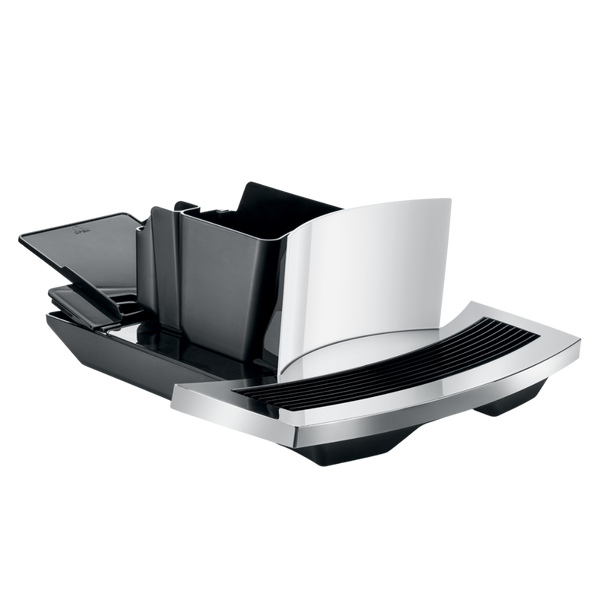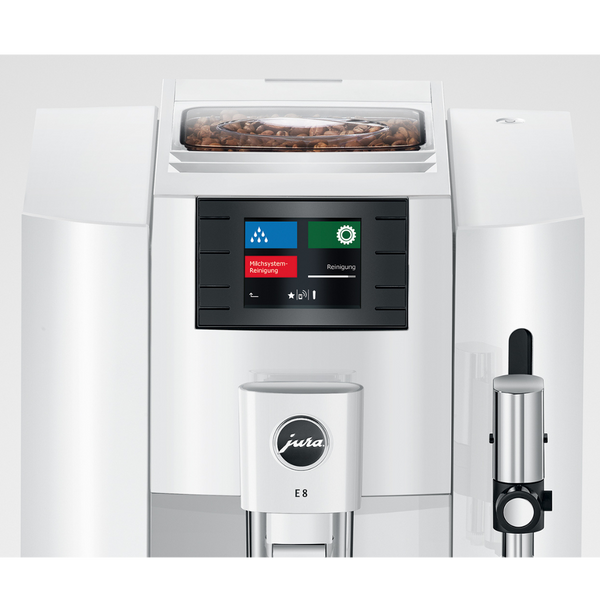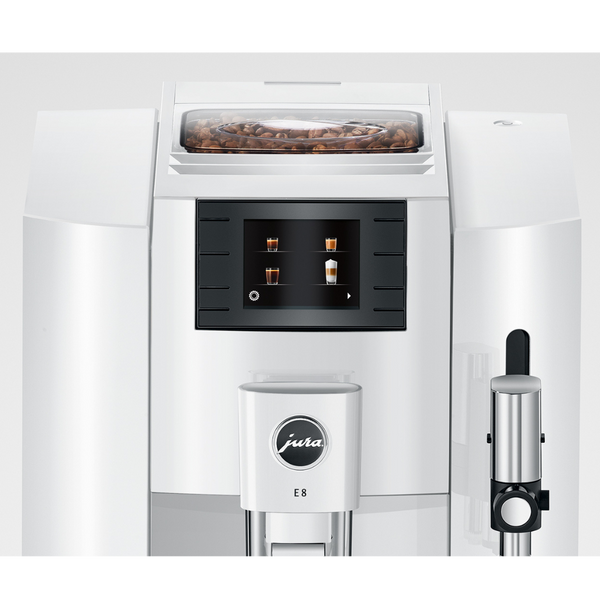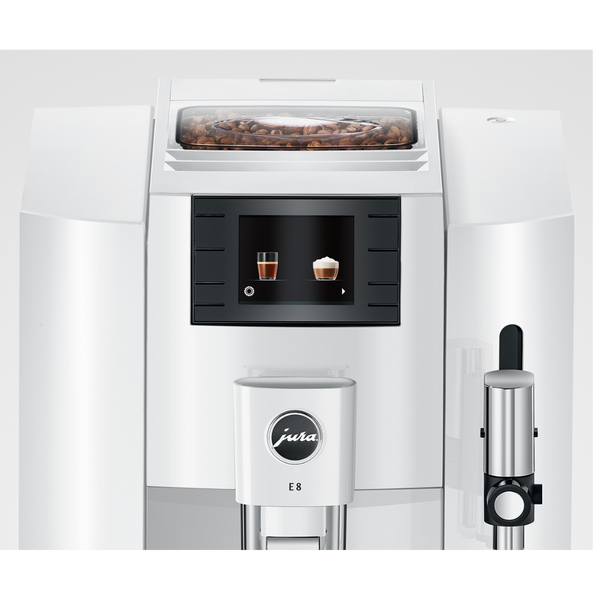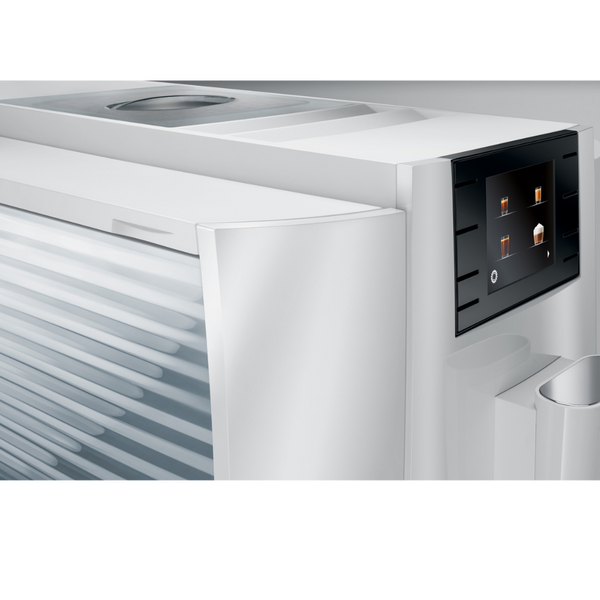 Jura E8
The perfect combination of pleasure, versatility and luxury
The latest generation of JURA's most successful coffee machine model boasts a reinterpreted design and a range of benefits previously found only in the premium class.
The Professional Aroma Grinder delivers a flawless grinding result, state-of-the-art brewing processes allow the coffee aromas to fully develop and trend specialties are better than ever thanks to the airy, feather-light milk foam. The innovative E8 offers 17 different specialties – from an aromatic espresso to a trendy cortado. It can also prepare long, mild specialties such as caffè Barista and lungo Barista to professional barista standard thanks to a new fluid system. Those who like their coffee more intense can pep up their cappuccino, flat white or latte macchiato using the Extra Shot function.
With the optimized fluid system, even milk system cleaning is carried out automatically at the touch of a button – another E8 function that will be familiar from JURA's top-line products. What's more, it now boasts even more intuitive handling along with incredibly easy operation.
Additional links: Awards
First-class coffee quality
The Professional Aroma Grinder guarantees 12.2%* more aroma and consistently high grind quality so that flavors unfold to perfection throughout the entire service life of the grinder. The Pulse Extraction Process (P.E.P.®) ensures maximum flavor for short specialties, while intelligent preheating guarantees the ideal temperature right from the first cup.
Luxurious operation
A 2.8" color display, six buttons, and a completely new operating concept featuring artificial intelligence enable simple handling. An intelligent algorithm identifies individual preferences and adapts the start screen, so the user's two or four favorite specialties are always displayed. Product settings and their positions on the screen can be adapted in line with personal preferences and product names can be displayed or hidden. All relevant information regarding the coffee machine as well as pending care instructions are presented clearly in the Cockpit via the display.
One-touch milk system cleaning
The sophisticated milk system cleaning process takes place automatically at the touch of a button and is completed in no time. The drip tray also meets the highest ergonomic standards. Its design prevents water from spilling, and it can be removed conveniently with just one hand.
Harmonious design
JURA coffee machines feature a clean and expressive characteristic design. High-quality materials and precise craftsmanship underline the premium quality of the modern E8. Its styling alone is evidence of its quality, functionality, and durability. Details such as the grooved water tank or the high-quality, chrome-plated cup grille perfectly complement the clean, harmonious design of the E8.
Support Clips
Cleaning the milk system
It's easy to keep the milk system in the dual spout hygienic and working perfectly. Just remember to clean the milk system every day if you have been preparing milk. This only takes about two minutes. Only use JURA milk system cleaner, which is specially formulated to clean the milk system.
Changing the filter
Thanks to the integrated RFID (Radio-Frequency-Identification) chip, the CLARIS Smart continuously records information about filter use and alerts the user when the filter capacity has been used up. CLARIS Smart is automatically detected by the coffee machine and water is automatically routed through it.
Cleaning the machine
Cleaning extends the life of your coffee machine and keeps the coffee quality at the highest level. Only use JURA cleaning tablets, which are specially designed to work with the cleaning program.
Descaling the machine
Scale is the biggest enemy of any appliance that uses water. Only use JURA descaling tablets, which remove scale gently to extend the life of your coffee machine.



Specialties

Products

Espresso




2 x Espresso




Coffee




2 x Coffee




Cappuccino




Cappuccino Extra Shot




Caffè Barista




Lungo Barista




Espresso doppio




Macchiato




Cortado




Latte macchiato




Latte macchiato Extra Shot




Flat white




Flat White Extra Shot




Portion of milk foam




Hot water

Number of specialty coffees

17

| | |
| --- | --- |
| Intelligent preheating (For hot coffee from the first cup) | ✓ |
| 3D brewing technology (The water flows evenly through the ground coffee at multiple levels in order to extract the maximum aroma) | ✓ |
| JURA Cockpit with maintenance status display (Shows the cleaning, descaling, filter status, and the number of the products dispensed) | ✓ |
| WiFi connection to home network | ✓ |
| Transmitter supplied as standard | - |
JURA coffee machine standards
Pulse Extraction Process (P.E.P.®) - The optimum extraction time guarantees the perfect espresso of outstanding barista quality
✓

One-Touch Lungo function (For long black coffee specialties that are particularly gentle on the stomach - full-bodied and light, without any unpleasant bitter or sour aftertaste)

✓
One-Touch function 

Classics and trend specialties are easily prepared at the touch of a button)

✓
Variable brewing unit (Ideal brewing conditions and the perfect pressure, no matter what amount of coffee is used)
5 - 16 g
Grinder

Professional Aroma Grinder

High-performance pump, 15 bar
1
Thermoblock heating system - For short heating-up times and water that is freshly heated every time)
1
Fluid systems
1
Milk system / interchangeable milk spout
HP3 / CX3
Powder chute for ground coffee
✓
Aroma preservation cover
✓



Operating and programming standards

Compatible with

 

J.O.E

®- The JURA Operating Experience (

J.O.E

®), your JURA app, brings all the functions of the automatic machines to you smartphone

✓

Display

2.8'' color display

Programmable and individually adjustable amount of water

✓

Programmable and individually adjustable coffee strength 

10 levels


Programmable amount of milk / milk foam

✓

Programmable brewing temperature 

3 levels


Programmable temperature of hot water (Perfect for the tea of your choice)

3 levels

| | |
| --- | --- |
| Intelligent Water System (I.W.S.) - For automatic filter detection | ✓ |
| Filter cartridge | CLARIS Smart |
| One–Touch milk system cleaning (automatic) | ✓ |
| Integrated rinsing, cleaning and descaling programs (Hygiene guarantee thanks to machine maintenance at the touch of a button | ✓ |
| Monitored drip tray (For simple and clean operation) | ✓ |
| JURA hygiene: TÜV-certified | ✓ |
Energy standards

| | |
| --- | --- |
| Energy Save Mode (E.S.M.©) - Helps to save energy and protect the environment | ✓ |
| Zero-Energy Switch or power switch (Disconnects the machine from the power supply and avoids using energy on standby) | ✓ |
| Programmable switch-off time (The machine is ready when you need it) | ✓ |
Design and materials

Amber / white cup illumination 

(Stylish presentation of the finished coffee)

✓
 

In figures

Height-adjustable/width-adjustable coffee spout

2.6 - 4.4 in / 65 - 111 mm / -

Height-adjustable cappuccino spout

4.4 in - 6.2 in / 

111 - 157 mm

Height-adjustable hot water spout

4.4 in - 6.2 in / 

111 - 157 mm

Water tank capacity

64 oz / 1.9 L

Bean container holding capacity

10 oz / 280 g

Coffee grounds container (approx. servings)

16

Cable length (approx.)

Voltage / Power

120 V ~ / 1450W

Current

10 amp

Stand-by power

0 Watt

Weight

21 lbs / 9.6 kg

Dimensions (L x W x H)

44.4 x 28 x 34.6 cm




17.6 x 11 x 13.8 in

Article Number/Product Code

EAN code

7610917154227

Country of production

Made in Portugal

Model year

2020
DOWNLOADS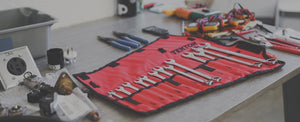 We Service What We Sell
National Cappuccino is an authorized Canadian distributor and service center.