Description
The perfect espresso
Multi-level grinder and Micro brewing unit for the ultimate espresso. Now Featuring P.E.P. Technology for the ultimate home espresso.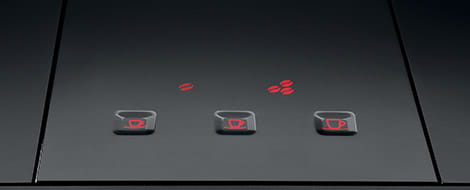 Simple operation
Touch panel with three user-defined cup sizes and two aroma levels to choose from.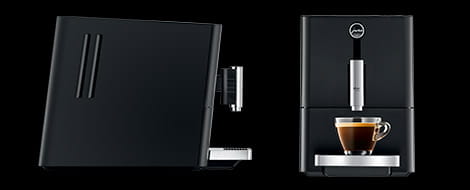 Compact
The ultra-compact model, reduced to the absolute minimum. 9 x 12.7 x 17.5 inches. (W x H x D)
Kind to the environment
The automatic energy-saving mode, programmed switch-off time and patented Zero-Energy Switch ensure high energy efficiency.
Compact elegance for coffee purists
With the A1, JURA is presenting the ideal one-cup machine for coffee purists and those buying their first coffee machine. It is designed to be as small as possible and will comfortably fit anywhere thanks to its ultra-compact design. It prepares coffees of an enticing quality and, thanks to the Pulse Extraction Process (P.E.P.®), it can also produce espresso and ristretto to the same standard. All that is required to start preparing one is to press the state-of-the-art touch panel.