Jura GIGA 6
Perfection, precision and professionalism in a new dimension
JURA is redefining the concept of automatic coffee machines with the GIGA 6. This professional machine for household use is brimming with the latest technology for outstanding results.
Made of top-quality materials and with Swiss precision, the GIGA 6's clear design features radiate power and expertise. The impressive quality of the iconic new automatic coffee machine is emphasized by the solid front section made of 3 mm-thick aluminum and the substantial aroma preservation cover made of chrome-plated, die-cast zinc.
Operating this masterpiece of Swiss engineering is completely intuitive thanks to the touchscreen color display and the Blue Crystal Rotary Switch, and the icing on the cake is that coffee lovers can choose from 28 different specialties. 5-star handling on a whole new level is made possible by artificial intelligence and the ingenious design, which has been carefully considered right down to the last detail.
Immerse yourself in the world of GIGA 6
Additional links: Awards
Double power and double action for 28 specialties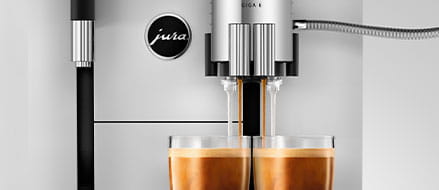 The secret to creating a perfect cup of coffee lies in creating ideal extraction conditions and to make trend specialties, it is vital you use the best ingredients. That's why the new GIGA 6 has mastered the art of heating and frothing milk perfectly as well as three different coffee brewing processes that come into their own when preparing various trend specialties. The machine's inner workings have been overhauled to provide the combined power of two heating systems and two pumps, enabling coffee and milk or coffee and milk foam to be prepared at the same time. This has opened up a whole range of new possibilities for coffee lovers, including popular mixed drinks such as caffè latte, flat white or cortado. JURA's new pride and joy can even prepare two specialties simultaneously if desired. Milk and milk foam can be tailored exactly to your individual taste and programmed in 10 temperature levels.
2 electronically adjustable ceramic disc grinders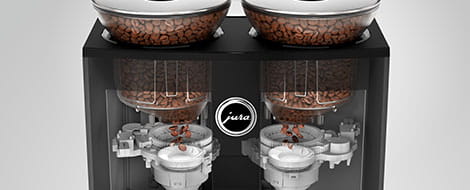 The two electronically adjustable ceramic disc grinders are preci­sion made using an incredibly hard material so that they can grind the coffee to the optimum fineness. The Automatic Grinder Adjustment (A.G.A.) delivers phenomenal results every time over the grinder's entire service life. There are two self-adjusting grinders so that two different coffee varieties can be used, either individually or mixed together. The mix of coffee can be selected in increments of 25 % (for instance, 100 % left, 75 % left / 25 % right, 50 % left / 50 % right, and so on) to ensure you can always select the perfect blend for your taste.
Artificial intelligence
With the GIGA 6, artificial intelligence is finding its way into the opera­tion of the machine. The 4.3" high-resolution touchscreen color display only shows the user relevant information. A self-learning algorithm identifies each user's personal preferences and adapts the start screen accordingly, showing two, five or eight preferred specialties. Images and symbols are self-explanatory, well thought-out and reduced  to the absolute essentials. You can give specialties ­specific names which can then be shown or hidden.
5-star handling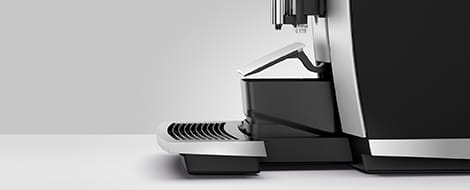 The JURA engineers paid special attention to the redesign of the drip tray. The dishwasher-safe drip tray can easily be removed, emptied and reinserted with just one hand. The center of gravity is ideally located to prevent any spillages. Simple, clean, quick, convenient – this 5-star concept is incorporated down to the very last detail.
SUPPORT CLIPS:
Specialties

Products

Espresso
2 x Espresso
Coffee
2 x Coffee
Cappuccino
2 x Cappuccino
Caffè latte
2 x Caffè latte
Caffè Barista
2 x Caffè Barista
Americano
2 x Americano
Espresso doppio
Macchiato
2 x Macchiato
Cortado
2 x Cortado
Latte macchiato
2 x Latte macchiato
Flat white
2 x Flat white
Portion of milk foam
2 x Portion of milk foam
Portion of milk
2 x Portion of milk
Jug of coffee
Hot water
Hot water for green tea

Number of specialty coffees

28
 

Specific advantages

| | |
| --- | --- |
| Intelligent preheating (For hot coffee from the first cup) | ✓ |
| Automatic Grinder Adjustment (A.G.A.) - This function describes self-adjusting grinders that automatically adjust themselves to ensure consistently perfect results. | ✓ |
| Active bean monitoring - To make sure there are always enough coffee beans available (so the grinder does not run empty) | ✓ |
| Automatic switchover from milk to milk foam (For perfect layers of milk, coffee and milk foam) | ✓ |
JURA standards

| | |
| --- | --- |
| Pulse Extraction Process (P.E.P.®) - The optimum extraction time guarantees the perfect espresso of outstanding barista | ✓ |
| One-Touch function (For the simplest preparation of trend specialties at the touch of a button and  | ✓ |
| Grinder | 2 electronically adjustable ceramic disc grinders |
| High-performance pump, 15 bar (For a rich, smooth crema) | 2 |
| Thermoblock heating system (For short heating-up times and water that is freshly heated every time) | 2 |
| Fluid systems | 2 |
| Milk system / interchangeable milk spout | HP2 |
| Powder chute for ground coffee | ✓ |
| Aroma preservation cover | ✓ |



Operating and programming standards

| | |
| --- | --- |
| Compatible with J.O.E® | ✓ |
| Rotary Switch (For simple and intuitive operation) | ✓ |
| Display (For self-explanatory, intuitive operation) | Touchscreen color display |
| Save, copy and personalize products (For inventing your own recipes) | ✓ |
| Programmable and individually adjustable amount of water (To suit the size of your cup) | ✓ |
| Programmable and individually adjustable coffee strength (Levels) - Enjoy the perfect coffee to suit your personal taste | 10 |
| Programmable milk / milk foam temperature (Levels) - Enjoy the perfect milk or milk foam to suit your personal taste | 10 |
| Programmable brewing temperature (Levels) - Can be adjusted to suit your personal preference | 3 |
| Programmable temperature of hot water (Levels) - Perfect for the tea of your choice | 3 |



Design and materials

| | |
| --- | --- |
| Alu Frame Design© 3 mm (A pleasure to touch and a high-quality finish) | ✓ |
| Amber / white cup illumination | ✓ |



In figures

Height-adjustable dual spout (Adjustable to suit your cups)

69 - 158 mm


Height-adjustable hot water spout (Adjustable to suit your cups)

69 - 165 mm

Width-adjustable dual spout 

(Adjustable to suit your cups)

20 - 50 mm

Water tank capacity

2.6 L

Bean container holding capacity

560 g

Coffee grounds container (approx. servings)

20

Cable length (approx.)

1.2 m

Voltage / Power

120 V ~ / 1500 W

Stand-by power

≤ 0.5 W

Weight

18 kg

40 lb

Dimensions (L x W x H)

48 x 32 x 42 cm

19 x 13 x 17 in

Product Code

2019

Article Number

15274
DOWNLOADS:
Jura GIGA 6 Instructions for Use
***PLEASE NOTE LEAD TIMES ARE UP TO 2-3 WEEKS***
We Service What We Sell
National Cappuccino is an authorized Canadian distributor and service center.